February 11, 12 and 18, 19, 20 2017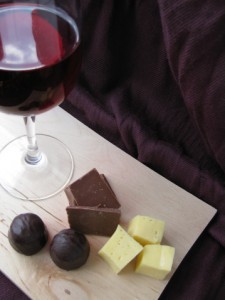 The Olympic Peninsula Wineries invite you to the annual Red Wine & Chocolate Tour, Feb. 11-12 and Feb. 18-20 (Presidents' Day Weekend) from 11 a.m. – 5 p.m.
Tickets may be purchased at participating wineries during the event. The $45 ticket and glass package entitles you to a special commemorative wine glass, complimentary wine tasting and delectable samples of chocolate at each winery during the Red Wine & Chocolate Weekends. This event does not take place at one location. You travel from winery to winery, visiting the ones you are interested in exploring. Tickets are not required to attend this event. A $7.00 wine tasting fee will be charged at each winery for non-ticketed visitors. You must be 21 or over to purchase tickets and/or participate in wine tasting. All ticket sales are non-refundable.
The Olympic Peninsula Wineries encourage responsible wine touring and recommend that you have a designated driver in your group. Designated Drivers are invited to enjoy the food at each winery.
At Camaraderie we will showcase the savory side of chocolate! A perennial favorite, the cocoa-spiced pulled pork cooked in the winery's wood-fired oven will pair with one of our great red wines.   Lots of red wines, discounts and chocolates will tempt our guests when visiting our lovely garden setting.