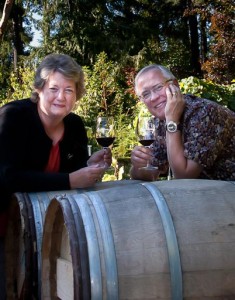 It was in 1981 that an intergenerational group got together over 100 pounds of grapes in our garage to make wine. We were having serious fun as we learned over eleven years about the mysteries of yeast, fermentations, and what we would do again and what for sure we wouldn't. Volumes of grapes got bigger, the multi-family "crew" got bigger too, food was abundant and so was the laughter. It was family friend and English professor Bill Rearick that suggested we name our selves Camaraderie Cellars for the combination of comradeship, and festive sense about us. The name has stuck and the last twenty years of commercial winemaking have really been about living into that name.
Last Fall's vintage was our 20th and we will be celebrating our 20th business anniversary in August of 2012. Where does the time go? It goes into the memory banks, I guess, and becomes, at best, the enriching stuff of futures to come.
Over the past twenty years Camaraderie Cellars has grown from its first vintage of about 200 cases to a current production of 3,800. We have earned more than 300 major awards for our wines, and have built a very solid winery and welcoming grounds adjacent to our home.
Over 20 years I have driven 140,000+ miles to retrieve well over 1,000 tons of grapes. I could tell you tales of flat tires, storms, blazing heat, and taco stands to remember (and some to forget), but the details and numbers are just footnotes to the real story of Camaraderie Cellars … its first 20 years.
What I remember most, and keeps me enthusiastic about the future are things like this:
Seeing the smiles of new customers surprised by the quality of wine they are sampling in this spot so seemingly remote from the grapes we harvest.
Increasing numbers of repeat customers and a very loyal wine club of friends.
Getting a fire going in the big fire pit on a coolish afternoon and watching the migration of visitors to its warmth… a metaphor for the warmth of the place as a whole, I hope.
partners like Gene and Mary Ann and Joy to share the loads that complement each other's strengths.
The augment of our otherwise skimpy work force at harvest and bottling times with dozens of recruits to joyfully help.
The thank you parties and events for the wine club.
Taking our wines on "cold calls" to a Ruth' Chris Steak House in Texas and have it adopted as a wine by the glass pour for $17.50/glass!
Barrel tasting wines that have six months to go before bottling and know they are the best wines (again) that I have ever made.
Working with vineyard partners like Paul Champoux and Fred Artz who share our desire for excellence.
The next years at Camaraderie will be sparked by the enthusiasm we began with in 1992, if not in 1981, but tempered with the realities of running a passionate business. The last couple of years have been a challenge for the whole industry but we are seeing steady renewed growth that is promising. We have chosen to stay the course unlike some other smaller wineries everywhere and have hit the reset button on who we are and what we are doing. We are still living into our name, "Camaraderie".
I've learned that to "live into" our name of "camaraderie" wine must be understood as our product but not our vision. Our over-riding purpose is to demonstrate a life style that "the best things in life are meant to be shared".
Here are some of our goals for the next few years, and they should make you smile as much as I am as I write this.
Take wine-making quality to even higher levels.
Decrease total production while maintaining variety as an asset for our customers and wine club members.
Build on our reputation as a wine (and winery) that over-delivers excellence for the price. This is different from just being a "good value".
Have fun!